Assisting researchers & supporting initiatives
Manta Trust in July 2012

We are supporting Project Manager Sarah Lewis and her team from Manta Trust in gathering data on the Mantas in our area.
Her project included activities in the field:
 Population monitoring (Manta birostris and Manta alfredi)
Photo-Identification of individual manta rays
Behavioural observations and habitat use (mating, cleaning, feeding)
Recording environmental conditions
Recording biological traits (sexual maturity, size, pregnancies, mating scars, injuries)
 Investigating movements and migration patterns (Manta birostris and Manta alfredi)
Explore "new" sites around the area
Using photo-ID to determine movements between different sites
Investigate the possibility of tagging (acoustic and/or satellite) for future research
Office/land based activities:
 Data analysis
Add manta sightings into database and determine whether individuals are "new" or "re-sightings"
Look for patterns within data set (e.g. seasonal changes in manta site use, abundance etc, correlations with moon phase and manta abundance)
Conduct workshops and presentations for resort staff and guests
Presentation about manta rays and our work
Training workshop on data collection and analysis techniques and how to get involved and assist with the research
Showing of a manta documentary
First Results:
We can already tell you about our Mantas in the area, especially around Manta Sandy is, that there are many resightings of pregnant females.
Like shown in the picture (you can easily spot a bulge on the back & underside of the Manta Ray) … Let's hope we will one day be the lucky witnesses of a livebirth … This would be the 1st one ever recorded in the wild.

Also seems like the population seems pretty consistent as for two consecutive days we have seen Manta 57 (a mature female black reef manta) cleaning at a site. So far we have 6 sightings of Manta 57 in our database going back to 2007. Another new Manta has been recorded feeding on two consecutive days.
As part of the research we also installed a GoPro camera to film what is happening when we were not around at one dive site called "Manta Sandy"
Even though this dive spot is quite frequently visited during November – March when big aggregation of Manta rays gather there and they are used to the divers by now, it seems that this Manta (No.57) seems a bit shy as she only appears once we left the area. We have been doing surveillance by diving/snorkelling for about 3h that day and the only time we actually got a sighting was during our surface interval!!
Watch the footage yourself here:
In the future Sarah hopes to raise funds to invest into satellite/accoustic tags to get more data information about their behaviour and travel routes.
If you want to help Sarah and her project have a look here: http://www.mantatrust.org/
We are encouraging Papua Diving guests to share their Manta Pictures and keep track of sightings. Papua Diving heads at least out 2 times a week to dive with the Mantas so the data collected should deliver interesting results in a short time from now.
Download the info mantabinder
Make a difference: Support this project with being a guest to one of Papua Diving Resorts and help us catalogize the Manta Population of Raja Ampat


Green Turtle Researchers in January 2012
Researcher Marjolijn Christianen and her team were based in East Kalimantan, where they have the biggest population of Green Turtles in Indonesia. They know from tagging that their turtles are migrating as far as Papua. They were collecting 'foraging data' of Green Turtles in Raja Ampat. We took them up to Wayag and to one of the most northern parts of Raja Ampat, Sayang Island where there is a large Green Turtle rookery, protected by the Papuan Sea Turtle Foundation and WWF.
http://penyu.nl/2012/02/25/green-turtle-foraging-in-raja-ampat/
Marine Lakes Researcher Summer 2011
We have assisted Lisa Becking who has been working on the underwater wonders of Indonesia for over ten years.
Most of the marine lakes in Raja Ampat are surrounded by karstic hills and are not visible from the sea. Armed with aerial images taken from a Drifter water airplane, old Dutch maps, Google Earth images and GPS's, Max flew down to Misool while one of our boats and crew took the researcher down to Misool. From Misool Max and the researcher went on reconnaissance flights looking for marine lakes. One located the researcher would take the boat over and complete a survey of biota in the lakes. Some very interesting findings were made.
http://marine-lakes.blogspot.com/p/raja-ampat-2011_04.html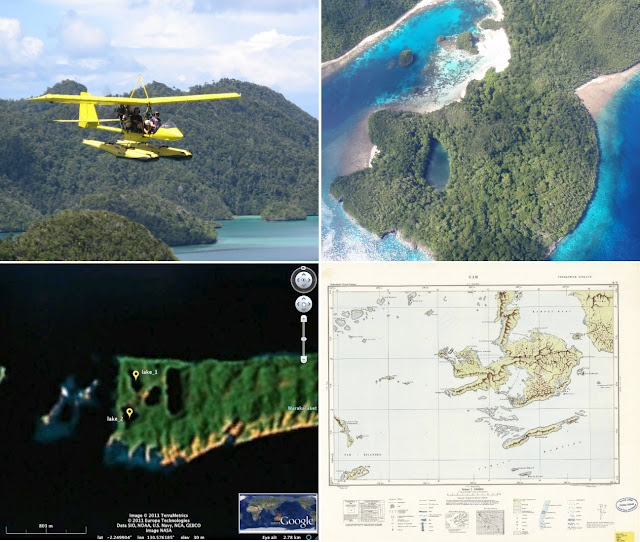 Giant Clams
Tricadanca Gigas, common name the Giant Clam is an endangered species.
Over harvested for food and exports throughout it's range. Raja Ampat is one of the last places were they can be seen in Indonesia.
Conservation International came to us with an initiative to replenish reefs around the Raja Ampat by placing several mature adults in our lagoon right in front of our Centre, very close to each other. Placing them next to each other like this increases the fertilization rate, by doing this we should see more Tricadanca Gigas larvae recruit and settle onto the reefs.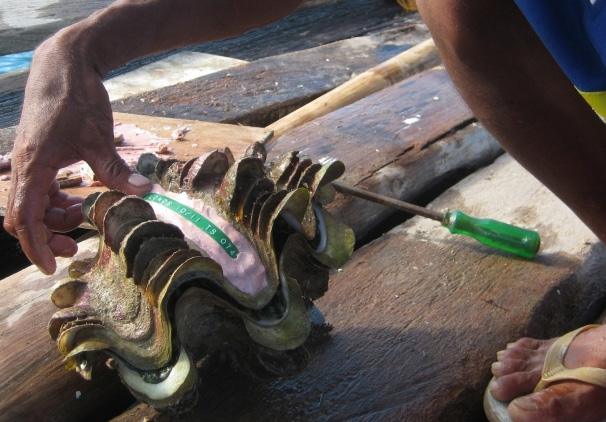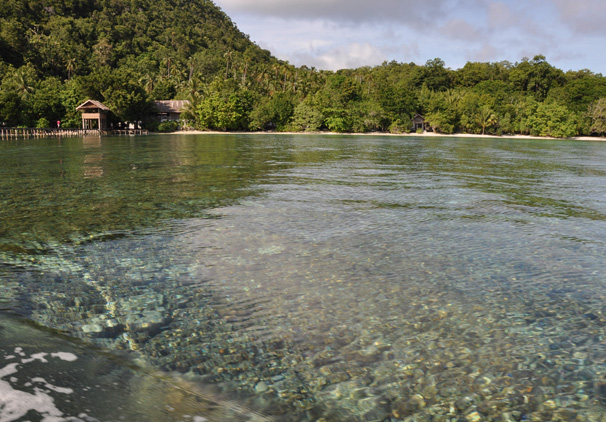 Coral Farming
The RARCC has an ambition to help set up small community based coral farms in some villages.
Some hard corals and soft corals grow fast and are in demand from the aquarium trade. A very small amount of coral is harvested from the reef, only the most colurful are selected. The selected coral cuttings are put onto a secure man made base on part of the reef. When this cutting has grown to a good size it is then the 'mother' colony. Small cuttings are trimmed from the mother colony and placed and secured on nursery trays in shallow protected areas. Once the mother colony has re grown we can take more cuttings. Within 6-9 months small cuttings are at a salable size and can be shipped to wholesalers in Jakarta or shipped on from Jakarta or Manado to wholesalers in cities in other parts of Asia or Europe. The process of growing corals is very easy, cheap to start up, uses minimal energy and expense to run and has minimal impact on the environment.
We believe it can offer an alternative income from fishing for potentialy over fished marine life like Grouper or Reef Lobster and logging of forests. We already have mother colonies growing at the Kri Eco Resort house reef where growth rates have surprised everyone.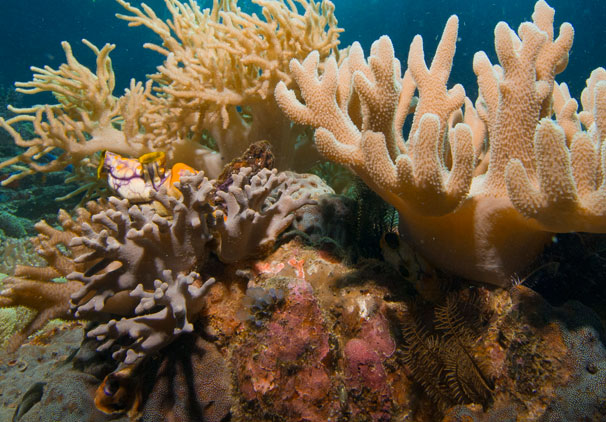 Rapid Assessment in 2002
We assisted a team of researchers doing a Rapid Assement Program conducted in the Raja Ampat Islands in 2002.
Here is their final report.
[issuu viewMode=singlePage width=420 height=544 backgroundColor=%23222222 documentId=120404095300-dd49894fac684f0cba6cb1326437be47 name=rap22_raja_ampat_indonesia_apr-2002 username=papua_diving tag=raja%20ampat unit=px id=f3c669b3-ab7e-d6f9-24bd-c8f3b58eaf1f v=2]